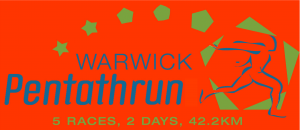 The Warwick Pentathrun
There are runs in cricket, but they're only a few meters long.
And sometimes we run to the dunny and create such a dreadful pong.
And then there's "runs on the board" a common saying, tis true.
And SOMEtimes the spouse runs away and there's nothing much we can do.
Those runs relate to this life and are all part of the fun.
But how many folk can stand the pace of a Mixed-Up Marathon run.
Let's pay tribute to fitness freaks as the half-marathon's underway.
And of course cross-country is easy, you'll hear the spectators say.
And a five K run near Sandy Creek that's not out on the Western plain.
It could be hot, or cold, or pouring with heavy rain.
There's pride at stake, so carry on and strive for the winner's place.
Those runners all, they stand so tall, a pride of the human race.
With muscles sore, they ask for more from Killarney and up the hill.
The mental toughness they all display shows up a strong, iron will.
To Queen many Falls up near the top is a very tough up-hill run.
But they make it seem so easy, it looks like they've just begun.
And the wallabies hiding in the scrub wonder as runners race.
Why are they chasing the man in front at that fearful, frantic pace.
Then they race around the town like the devil is close behind.
What is it that urges the runners on?
What goes through their minds?
Is it the adulation as supporters stand and cheer?
Or is the urge to at last sit down and sip a cold fourX beer?
Let's thank the runners for their support and the sponsors of races won,
And look forward to another year and a mixed-up Marathon-run!
Max Jarrett  22-23/5/2010