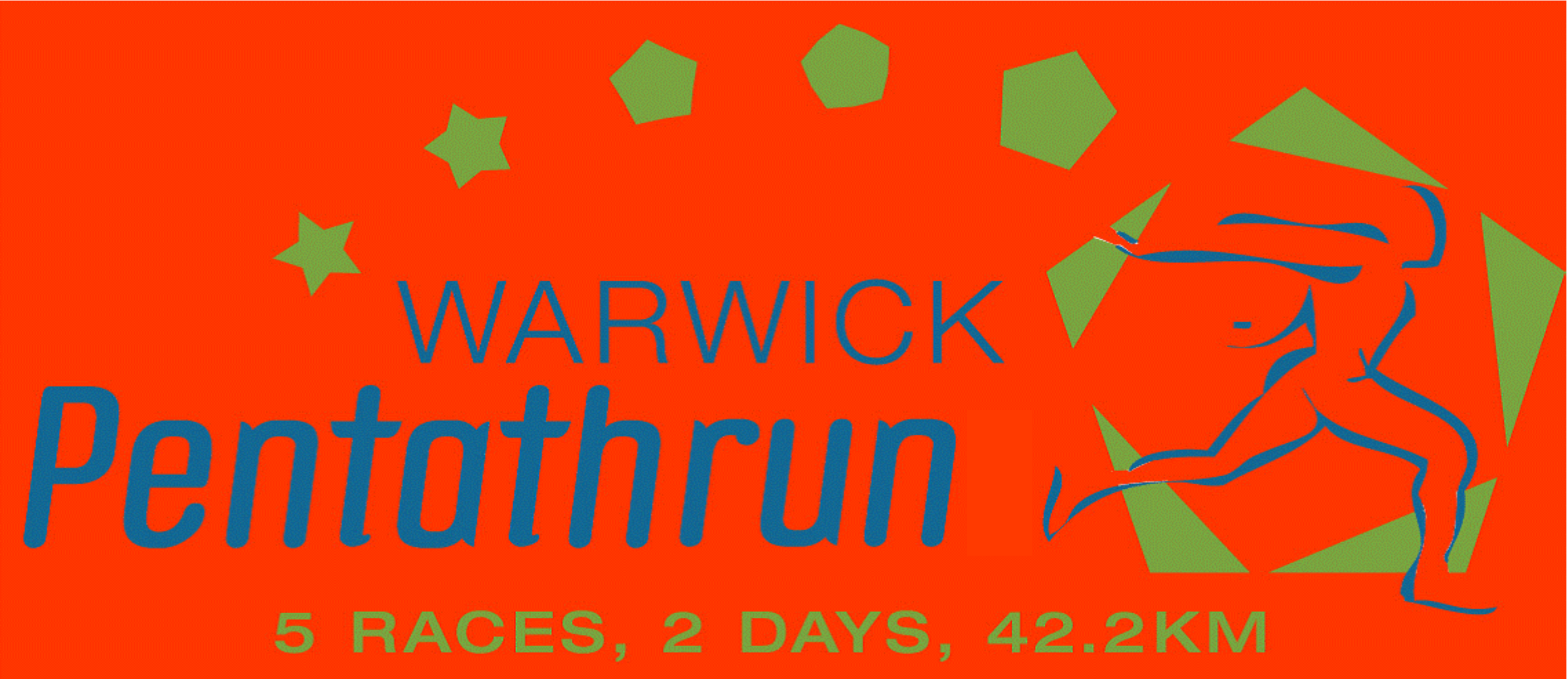 Warwick Pentathrun
The Virtual Race – 
20th to the 24th May 2020
5 Races, 5 Days, 42.2 km
COVID-19 has bought with it a change in the way we connect with each other. For some this is nothing new, while for others it brings the 'new norm' into perspective. We are incredibly lucky today that modern technology connects us across the globe. The Pentathrun Committee are excited to be able to maintain the spirt and tradition of our event through virtual running and we want you to join us.
WHY?
The Pentathrun Committee are excited to be able to maintain the spirt and tradition of our event through virtual running. As we know physical activity is important for many reasons… two that stand out to us here at Pentath are:
1. Exercise supports our immune system
2. Exercise is proven to support our mental health
Ricky from "Sports Event Services' along with Karen, Neil and Kerri,  have been working together to bring you the opportunity to be a part of 2020 Warwick Virtual Pentathrun
How, when, where and what?
Some things don't change
The Warwick Virtual Pentathrun will still have the same five races to choose from; Half Marathon, 4.6km Cross Country, 5k Road, 10K Ascent and 1500m Sprint.
Choose how many races you wish to participate in: ,1, 2, 3, 4 or All 5
And, Some things are different…
YOU don't have to be in Warwick! The Virtual Pentathrun can be done anywhere in the world!
YOU have 5 days to complete the 'Pentath', rather than our traditional 2.
YOU choose when you complete each race, within the 5 day period
YOU choose the order you complete each race
YOU choose where you complete each race
YOU record and upload race results 
YOU download a finishers certificate
There are no race bibs
AND
For everyone the Entry fee is only $5, regardless of how many races you complete
There are no medals, no trophies, no award ceremonies. You are running for YOU and keeping the spirit of the Pentathrun alive.
The event OPENS on

 

WED 20th May 5am, and CLOSES on SUN 24th MAY at 1pm. 
There will be an option to purchase a runner's singlet as a memento.
Results, finish times and fun
From 5am Wednesday 20th May you can start running! Make sure you record your finish times for each race using your GPS watch. You will have until 1pm on Sunday 24th May to complete your runs and upload your finish times online in our results portal. More information on how to do this  will be sent once you have registered.
Ensure you complete the correct distance to make it fun and fair for everyone. You will be able to view your results, complete with age category placings – just like 'normal'. Please read the FAQs below, there is some key information for you.
What next, are you in?
The 2020 Virtual PENTATHRUN registrations are CLOSED! Contact Us if you would still like to be part of the event.
We really hope you will join in the Virtual Pentathrun Event.  This is now the perfect time to give ALL 5 races a go. Click here to join the Facebook 2020 Virtual Event Group. Here you can share race stories, photos and exchange banter just like at a 'normal event'.
Hope to 'see' you running soon!
The Pentathrun Committee
FAQ???
What happens if I do not have a 'hill or mountain' for the 10k Ascent or I run downhill instead?
OR
What happens if I do not have a cross country course?
OR
What happens if I complete one race, per day?
The answer to all these questions is, it does not matter! We are keeping the virtual event amazingly simple. There are no awards, no trophies.  Do what you can, where you can, when you can. However, if you wish to follow the traditional path and complete the races as per our event structure, that is great. BUT it is not necessary.
So, why is there an entry fee?
We have invested in an online entry system to manage the virtual event and record times, essentially you can watch the event unfold as runners upload their times and see your placing.
Race 1 – Black Toyota Half Marathon
Type: 1/2 Marathon Where: Anywhere you like Details: The usual race starts outside the Warwick Senior Citizens Centre at 6:30 am and the temperature is usually quite cool, around 5 to 10'ish degrees at the start but warms up as the sun rises. The first three kms are quite flat with the fourth being hilly. From 5 to 13km it is also quite flat then we hit some rolling hills all the way to Yangan finishing the last km downhill into the village. We wont have any markers on the virtual race and you will need to take your own water sorry. After finishing, share breakfast with friends and chat but stay Covid Safe
Race 2 – YMCA Camp Leslie Dam  "X" Country
Date: Any day of the event
Race pack collection/ late entry : Not needed
Type: 4.6 Km Cross-Country
Details: Usually at Leslie Dam but this time anywhere you like.
Race 3 – Darling Downs Hotel 5km Road Race
Date: Any day of the event
Type: 5 Km Road Race
Where: Usually at the Darling Downs Hotel, Sandy Creek Rd
Details: TFind yourself a 5km stretch that is flat. Then go fast. Usually there is the pub at the finish of the final race for Saturday. If you want to end with a beer at home be our guests. 
Race 4 – Queen Mary Falls Cafe Ascent

Date: Any day of the event
Start: When you like
Type: 10 Km uphill road race
Where: Killarney to Queen Mary Falls
Details: This race is normally an ascent. If you can find some big hills and run up them.
Race 5 – Voyage Fitness 1500m
Date: Any day of the event but we suggest Sunday
Type: 1500 meter road race
Where: Its usually a great way to end the weekend. We suggest make it your last event run. 
Details: This is a very fast conclusion to the weekend of running, or a chance to get a good time if you have not competed in all the other races.